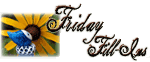 It's that time of the week again...it's FRIDAY!!! Woohoo!
1.
Watermelon
-- the best food to take on a picnic.
2. Summer
is a creeping...quick, looking for sanity hat!
3.
Pink, yellow, silver, black and brown
flip flops
are what I have. Need to get more!
4. To love someone
is easy, to be loved is a gift.
5.
It's been a while since I have been on
a long hike.
6. When I crave food, it's
usually something that is VERY bad for me! hahaha
7. And as for the weekend, tonight I'm
looking forward to watching a movie with the hubby
, tomorrow my plans include
laundry and cleaning house while Neal is at work
and Sunday, I want to
just go out and do something (preferably beachy)!
Have a safe and fun Memorial Day Weekend!
Friday fill-ins can be found
here
.