This week I've been working on Halloween things and there was one find that I scored on. Meet Mr. Skullhead!
Colton actually found it at Michael's. And the best part...it was 40% OFF! I had to put it in the little niche in the wall of our foyer. Just love the silver spider on his hat! I also made a framed art piece using some old scrapbook papers and an owl punch. Then I went to a Halloween store and got a black rat (my mom would LOVE that...NOT) and a goblin which I put eye balls in! Bwhahahaha
But since today is the first day of October, the kids had to find out what they were to find in the 1st pocket of the advent calendar.
Can you guess what it was?
It was to put up some silhouette spiders (thank you Martha Stewart)! Love these guys...thank goodness they aren't real! Here is a picture of our entryway: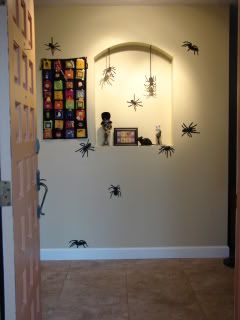 And of course the kids had some fun with the spiders. LOL
What will tomorrow's pocket say?