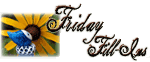 1. I'd like
for money to fall from the sky
!
2. One of my most favorite romantic memories is
the night Neal proposed to me in the kitchen of his apartment on one knee and my hands deep into stuffing manicotti noodles, YUM
.
3. Last night, I had
Chicken and Rice Casserole
for dinner.
4. Sorry for the
spotty blog posts...need to be more consistent
.
5. Can we
EAT
now?
6. One of my worst temptations is
spending money on kids clothes; cute clothes are
hard to resist!
7. And as for the weekend, tonight I'm looking forward to
movie night with the kids (Alvin and the Chipmunks: The Squeakquel),
tomorrow my plans include
boating and a crab boil hopefully
and Sunday, I want to
work on our 'to-do' list
!
Friday Fill-ins can be found
here